What's Babel?
The latest release of JavaScript, called ES2015, has a lot of features that browsers don't support yet.
You don't have to wait. You can write ES2015 now and Babel will transform it into syntax that today's browsers understand.
Why Do This?
First, because ES2015 is really nice to use. Secondly, because many frameworks like Zurb Foundation and React now rely on Babel. They won't work without it.
---
Enabling Babel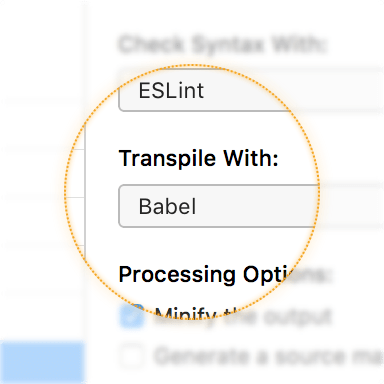 Select a JavaScript file and look at the Inspector Pane. Choose "Babel" from the Transpile With pop-up button.
You can also enable Babel for all JS files at once. Open Project Settings and choose the JavaScript category.
Note: If you use Babel, the only syntax checker you should choose is ESLint. It's the only one that understands ES2015 syntax.
---
Configuring Babel
Open Project Settings and choose the Babel category: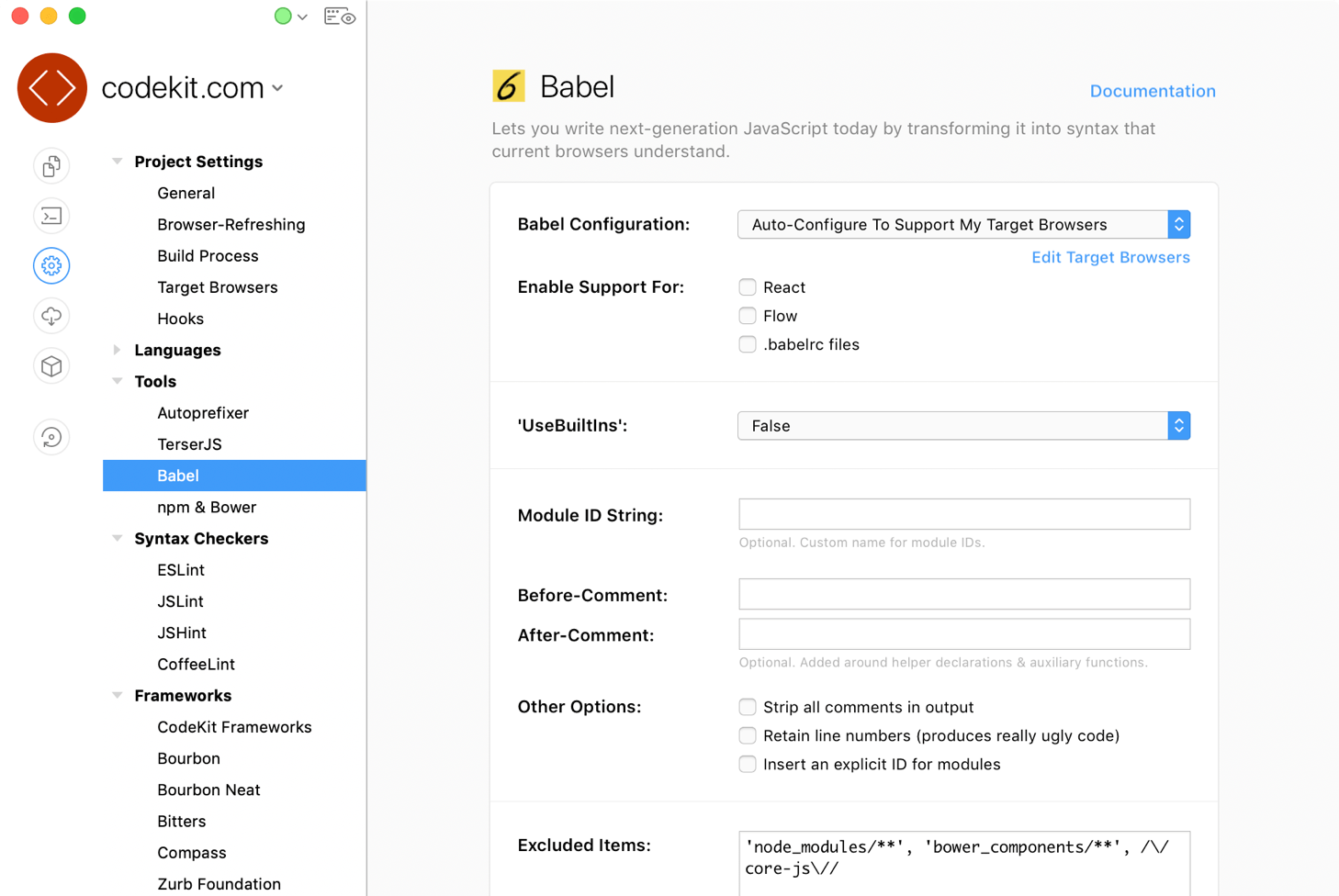 Basic Options
The before/after comments will wrap Babel-generated code so you can see what the transpiler produces. For details about the remaining options shown above, see the Babel documentation.
Babel Config Files
You can configure Babel using special files named .babelrc. By default, CodeKit ignores these files. You can change that in the Babel Config Files pop-up button, above.
For example, if you're working with other developers who don't use CodeKit, your team may want to configure Babel solely from .babelrc files. Select the appropriate option in the pop-up button to do this.
---
Babel Presets
Babel has a plugin architecture. The processing it does depends on which plugins you enable. Presets are just "plugin collections". Enabling a preset turns on a specific set of plugins so you don't have to enable them all manually:

Default Presets
CodeKit ships with the ES2017, ES2016, and ES2015 presets enabled. This is perfect for most projects.
React
If you use React, you'll want to select the React preset and de-select the others.
---
Custom Babel Presets & Plugins
CodeKit ships with the official plugins and presets that are made by the Babel team. There are hundreds of others available from third parties. You can use them with CodeKit by supplying their names in a comma-separated list here: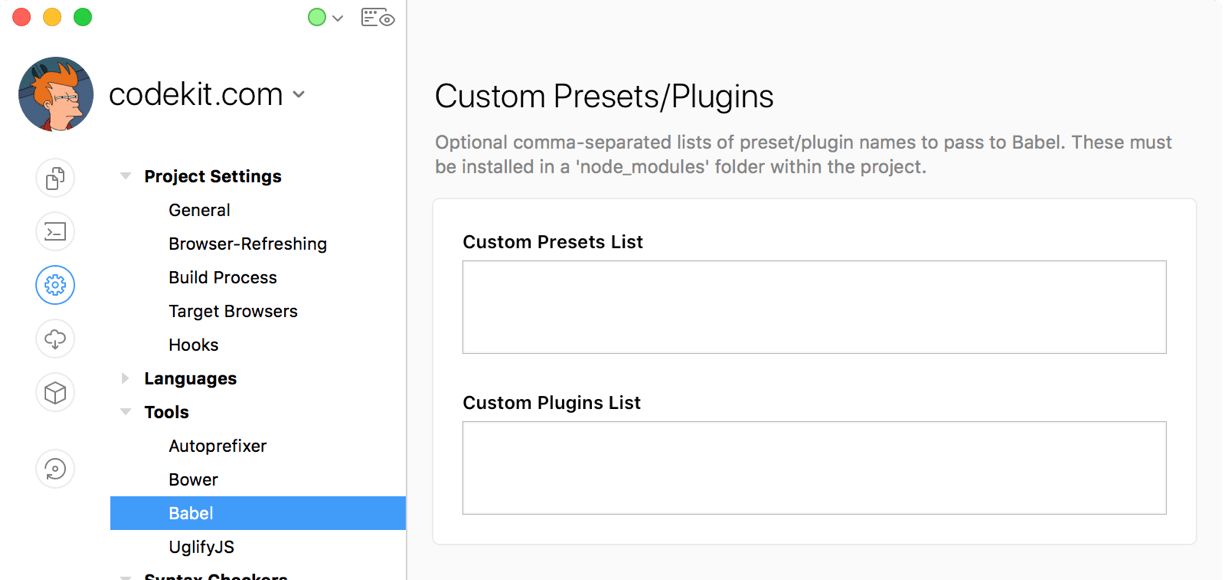 You must install these items yourself using NPM. They should be in a node_modules directory under your Project's Root Folder. Verify that each one is compatible with the version of Babel in CodeKit (see the About Window). You may want to use a .babelrc file if your third-party items require custom options.
---
Individual Plugins
Finally, you can enable individual Babel plugins, if needed: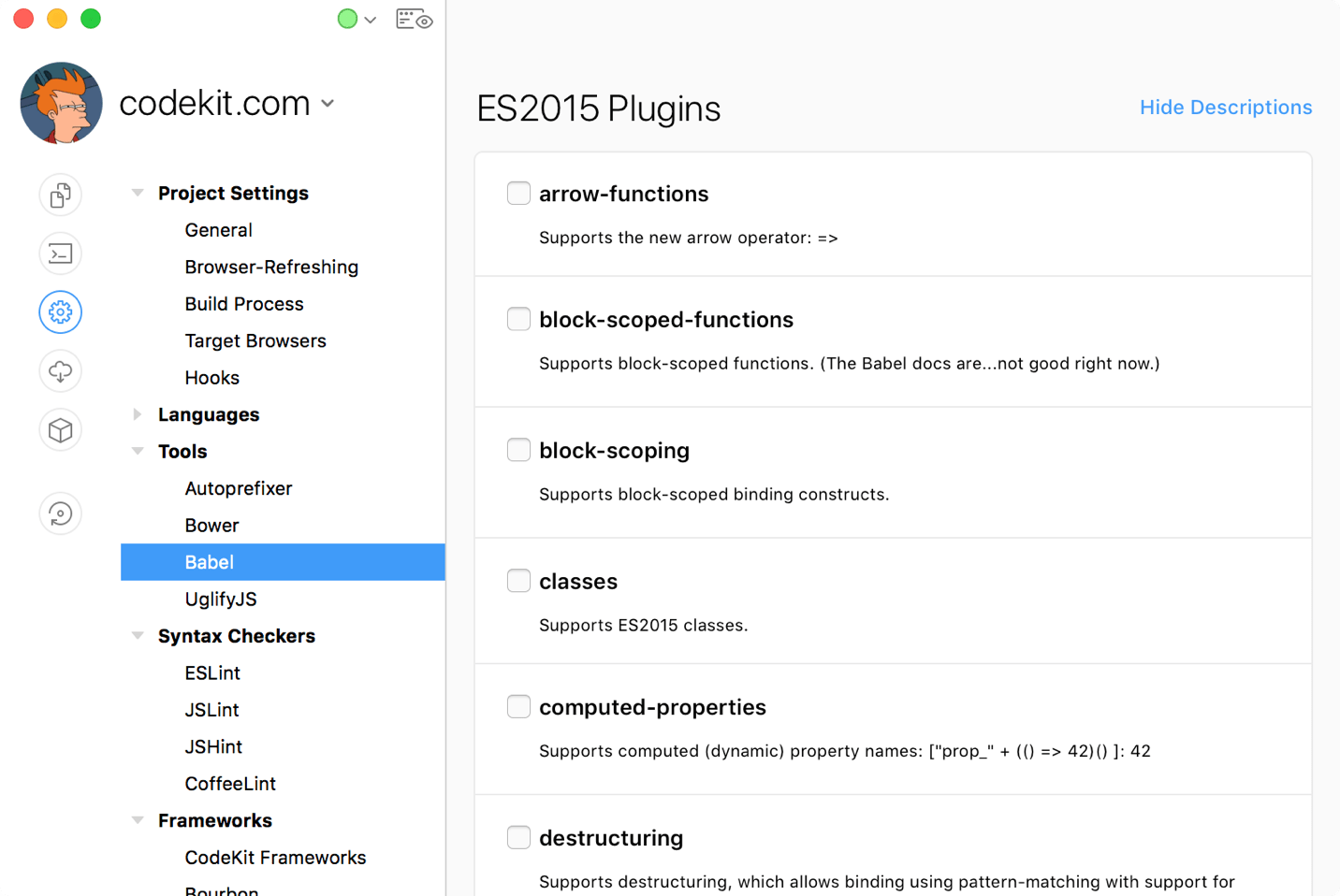 The plugins are grouped by their official category. Check the box to enable a plugin or leave it unchecked to disable it.
Note: If any presets are selected, the plugins associated with that preset are always enabled, regardless of whether they're checked or unchecked.